best EYELASH EXTENSIONS in Namapa
If you're looking for a beauty treatment that will make you feel and look your best, natural eyelash extensions may be the perfect option for you. At our salon in Nampa, ID.
Shawna Marie Esthetics in Nampa Idaho offers eyelash extensions to make your eyes look their best. Whether you're looking for a natural look or something more dramatic, our experienced Estheticians and lash techs can help you find the right style for you. Our eyelash extensions are designed to help you achieve the look that you desire. We offer a variety of materials and colors, so you can find what suits your preference and style perfectly.Highest quality eyelash extension products are used to create beautiful classic, hybrid and volume eyelash extension sets. As unmatched and unique as you are, our lashes are customized to enhance your beauty. The eyelash extensions are designed to be feather-light and easy to wear. With clean and safe application.
With a single eyelash extension applied to each natural lash, you leave them guessing. This is a natural look that enhances your original volume and is preferred by clients who want to stay incognito on extensions.
Our most requested eyelash extension set. A 50/50 hybrid of natural and volume lashes, mixing 1:1 lashes with 2-3D lashes for a fuller look with just a hint of drama.
When you want to make a statement. Your stylist will apply two or more lightweight eyelash extensions onto each individual eyelash to create a luscious full set. This uses 2D to 9D volume lashes for ultimate fullness.
A lash refill is recommended every 2-3 weeks. Remember, lash extensions are bound to your own lashes which naturally shed at a rate of 2 to 5 lashes per day or approximately 25 plus lashes per week. This shed rate could be higher if you live a particularly active lifestyle with lots of sweating and exposure to humidity.
As with any beauty treatment, lashes need maintenance and care. Lash fills include priming, removal and replacement of outgrown lashes. To help your lashes thrive, we always check the health of your natural lashes during each fill and would advise if you need a break.
To keep your lash look divine, refills can only be done when 50% of the original set remain. This is to keep the extensions even, fresh and you definitely looking your best!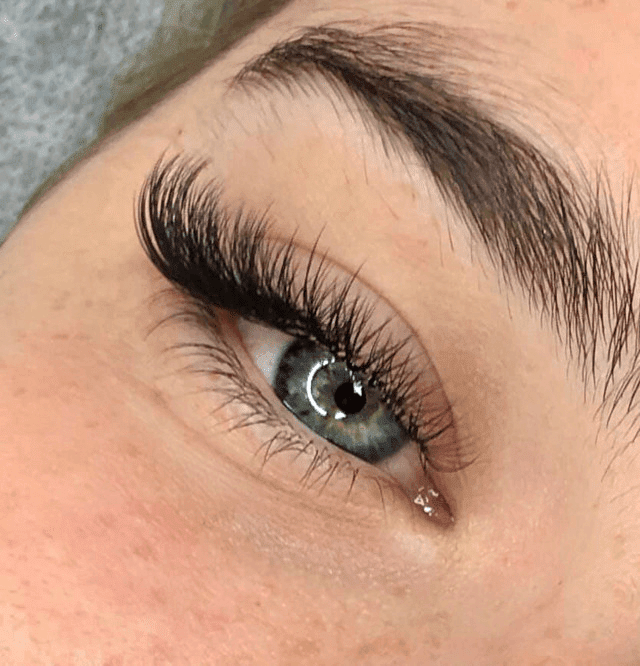 At Shawna Marie Esthetics we use only the safest, highest-quality products available in the industry. Our team is highly trained in applying for eyelash extensions, so you can be sure that your extensions are applied correctly and safely. We will also provide you with thorough aftercare instructions to ensure that your extensions stay on for as long as possible.
We believe in providing exceptional customer service, so we strive to make sure each of our customers is completely satisfied with their experience. Our team is always available to answer any questions or concerns you may have about our services. So come visit us today and let us help you discover the perfect look for your eyes. We guarantee you'll be delighted with the results!
Our lash extension services include the application of individual extensions or a full set of lashes. Depending on your desired look, you can choose from different lengths, textures, shapes, and colors to create the perfect style for you.
We also offer refills if you notice any gaps in your lash line. And with proper maintenance, our lash extensions can last up to 4 weeks, giving you the beautiful look you want for a long period of time.
We look forward to helping you achieve beautiful, longer-lasting lashes!
FULL SET VS. LASH FILL
FULL SET: If it's your first time getting eyelash extensions, you'll want to start off with a full set. That's where, using our exclusive lash design technique, we'll apply lovely lashes across your lash line. Depending on the application method and lash level (fullness) you select in your lash design consultation, this process can take anywhere from two to three hours. It's detail-oriented work! We take our time to make sure you get the lash look of your dreams.
LASH FILL:
Since we lose about 20% of our natural lashes every two weeks, you'll need regular appointments to keep your lash line looking its best. We can restore your lash look to all its beautiful fullness with a lash fill. Most of our guests come in every two weeks for a full lash fill. This typically takes about 45 minutes—just enough time for a rejuvenating lash nap!
FIND Nampa Idaho LASH EXTENSIONS NEAR ME
Shawna Marie Esthetics Nampa Idaho – is your destination to completely transform your look. Not only will you look incredible, you'll also spend less time getting ready every morning. You'll have more time for you. Step outside and face the world with confidence.
If you're looking for a new look or need your eyelash extensions touched up, we offer eyelash fills and removals. Our team can help you determine how often you'll need to come in for a lash extension fill, depending on the type of extensions you get and the number of natural lashes you have. We also offer removal services, so if you're no longer interested in having extensions, we can take them off for you.
We understand that eyelash extensions can be a great way to enhance your look, but it is important to take care of them properly. That's why our team of experienced professionals strives to make sure that each service is tailored to meet your individual needs and expectations. We will work with you to determine the best type of eyelash extension fill or removal service for you, and provide you with all the necessary information to ensure that your service is safe and effective.
For the best eyelash extension services in Nampa, ID, come to our salon. Our experienced technicians will use their expertise and skill to provide you with the perfect look that meets your expectations. Schedule an appointment today and start enjoying longer, luscious lashes!
LASH REMOVAL - Existing Clients | $20
Lash removals are not charged additionally if refilling.
LASH REMOVAL - External Salon Lashes | $35
Lash removals are not charged additionally if refilling.